Post by harlowranger on Jul 11, 2012 15:16:25 GMT
Bump/Edit another year
7 Years Ago....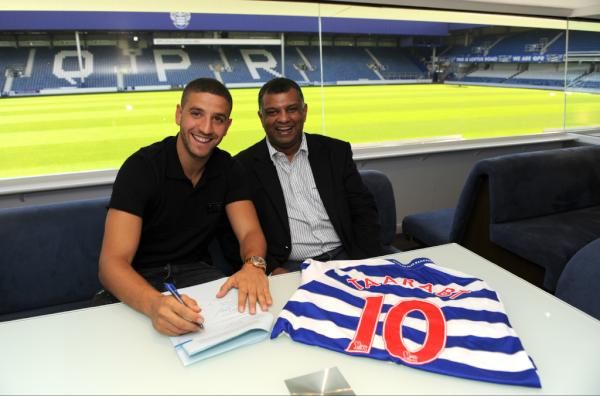 QPR OFFICIAL SITE

QPR talisman Adel Taarabt has signed a new long-term contract at Loftus Road.

The magical Moroccan - who will wear the number 10 shirt next season - has put pen to paper on a three-year extension, tying him to the Club until the summer of 2016.
The 23 year-old - who signed permanently from Tottenham Hotspur in August 2010 following two successful loan spells at Loftus Road - has made 123 appearances in all competitions for the Club, scoring 29 goals.
Speaking exclusively to
www.qpr.co.uk
, the Moroccan international attacker said: "I am very pleased to have signed this new contract.
"When I first arrived here I honestly thought it would just be for a short period but I love this Club and the people here have really helped me and I am very happy to be here.
"I had a tough start to the season last year, but I worked hard and I have really enjoyed it under Mark Hughes.
"The Club is getting bigger and bigger, and with a new training ground and talk of a new stadium it is very exciting.
"In the time I have been here QPR's ambition has changed. Last year the aim was to stay in the Premier League. We achieved this and now we want to progress and improve. Nobody is speaking about what we can achieve but we really want to move up the Premier League table. "
QPR boss Mark Hughes, who Taarabt credits with his return to form in the second half of last season, expressed his delight at the deal, commenting: "It is important that we keep good, young players at QPR because that is going to drive what we want to do and Adel is a big part of that.
"There is no question he can produce moments of skill that not many players can.
"And you need those game-changing players who can do something unexpected because that can be the difference between winning and losing in tight games.
"Adel had a period here where it was a little bit difficult for him and the Club, but he came through that. When I came to the Club, in my eyes it was a clean slate for him and he had a real opportunity to be part of what we are doing."
He added: "I have seen a real effort from Adel and the quality of his work last year was good, both in an attacking sense and defensively. He has embraced what we are trying to do.
"He is undoubtedly a talented boy but he understands he has got other aspects of his game which he needs to work on and he has shown a real effort to do that.
"Defending is not a natural part of Adel's game but he understands that there is an obligation for any player who plays for me to recognise it's not all about playing when we have the ball in our possession.
"Adel and many of the players here understand that the Club is looking to go in a forward direction and they want to be a part of it."
www.qpr.co.uk/page/NewsDetail/0
,,10373~2837404,00.html


QPR Official

ADEL: 'THE #10 SHIRT IS SPECIAL'
Posted on: Wed 11 Jul 2012
Adel Taarabt is relishing the opportunity to wear the number 10 shirt for QPR next season and readily acknowledges how 'special' the famous jersey is at Loftus Road.
Taarabt, who has penned a new long-term deal, will follow in the footsteps of R's legends including Stan Bowles, Rodney Marsh and Kevin Gallen by pulling on the famous shirt and he told http://www.qpr.co.uk: "This means a lot to me personally.
"I was happy with the '7' but I know '10' is very important at QPR. Special players like Bowles and Marsh have worn this.
"The Club told me that the fans want me to have this shirt. So if this makes the fans happy too, it is even better for me."
Taarabt, who has scored 29 goals in all competitions during his time at Loftus Road, added: "Before I came to the Club I didn't really know too much about the number 10 shirt and what it meant, but I have heard lots about it, and about what fantastic QPR players wore it. So to have it is very, very special for me.
"If the fans believe I have the ability to become as good as these players before me, that is massive. This puts a little bit of pressure on me but I am ready for the challenge."
The now vacated number seven shirt will be worn by Ji-Sung Park next season.
*A complete list of squad numbers for 2012/13 season will be announced soon.
Read more:
qprreport.proboards.com/thread/32260/years-adel-taarabt-extends-gets?page=1&scrollTo=271544#ixzz39vMa1Gro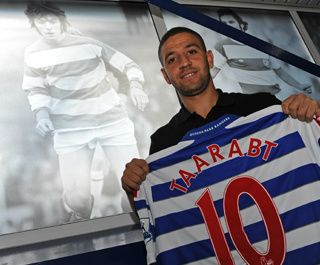 TELEGRAPH


Queens Park Rangers agree new deal with Adel Taarabt
Adel Taarabt is pleased to have signed a new deal at QPR so that speculation over his future and relationship with Joey Barton can finally be put to bed.
QPR signs new deal with Adel Taarabt
New deal: Adel Taarabt will stay at QPR until 2016 Photo: PA
By Telegraph Sport
6:36PM BST 11 Jul 2012
Follow
The 23-year-old has long been linked with a move from Loftus Road and seemed destined to leave last summer or during the January transfer window.
Rumours over his future intensified recently when reports emanated suggesting the Morocco international would refuse to play alongside team-mate Barton.
Taarabt today rubbished talk of a fall-out with the former QPR captain and hopes the fact he today signed a new long-term deal until 2016 will allow him to focus on football.
"It is perfect for me to sign now," he told Telegraph Sport. "Nobody is going to link me with another club.
"Now I can just focus on Queens Park Rangers and doing my best for this club.
Related Articles
Terry: I don't owe Ferdinand apology 10 Jul 2012
'I've been called a lot of things but racist is not one' 10 Jul 2012
Terry fails to get case thrown out 10 Jul 2012
John Terry: I am not a racist 10 Jul 2012
Terry: 'I will not take being called a racist' 10 Jul 2012
"I don't know where this [Barton report] came from because I never [said that].
"When I saw that, I called the QPR press office straight away and said 'I never said that. We have to put out an article denying it'.
"I even called Joey and told him it was not true and had no problem with him.
"He has all the time helped me here. Sometimes he was hard with me but that is because we wants me to do good, so for me I don't have a problem with Joey Barton."
While Barton will miss the first 12 games of the season through suspension, Taarabt is keen to hit the ground running.
The 23-year-old says he spent three weeks training intensely prior to pre-season beginning on Monday as he bids to avoid the difficult start he had to last season.
"Of course the first six months were difficult for me," Taarabt said. "I didn't score a goal and I was very frustrated.
"But after the African Nations Cup, when Mark Hughes arrived, everything improved for me.
"I worked harder for the team and I changed my game. With the work I did, it paid off."
Now Taarabt and QPR - who only avoided relegation on the final day of the season - are looking to bigger and brighter things.
The club plans to move to a state-of-the-art training complex next summer and an announcement is expected soon on a new stadium.
The Hoops have also been active in the transfer market, with Park Ji-sung becoming their sixth new addition of the transfer window on Monday.
For Taarabt, it is hard to believe how far QPR have come since he turned two loan spells into a permanent transfer from Tottenham Hotspur in August 2010.
Asked if he could have envisaged playing alongside the likes of Park when he first joined, he said: "No, not at all because when I signed we were in the Championship. I was not thinking of the Premier League.
"Even last year when we were there we were not thinking the club would have this ambition and sign players like Park Ji-sung, but the chairman has big ambitions
"We have a great manager and they want to improve so that is why I have taken the decision to sign a new long-term contract with Queens Park Rangers."
As well as signing a new deal, Taarabt has been handed the number 10 jersey at QPR - worn previously by the likes of Stan Bowles, Rodney Marsh and Kevin Gallen.
The move, which will see the vacated number seven shirt worn by new signing Park, has been welcomed by the Morocco international.
"I am very proud to wear that shirt," he said. "I am very happy to have this number.
"There is a little bit of pressure but it is good pressure."
www.telegraph.co.uk/sport/football/teams/queens-park-rangers/9393314/Queens-Park-Rangers-agree-new-deal-with-Adel-Taarabt.html