sharky
Terry Venables


member is offline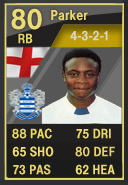 Joined: May 2011
Gender: Male


Posts: 2,803
Location: Perth

Ramage hoping to find Prem Team
« Thread Started on Jun 18, 2012, 6:18pm »

---

From Tribalfootball

Ex-QPR defender Ramage hoping to find Premier League club

Submitted by Andrew Slevison on Mon, 06/18/2012 - 17:51

Recently-released QPR defender Peter Ramage is hoping he can continue his career with a Premier League club.

The 28-year old is a free agent after his contract at Loftus Road expired and appears to be heading for the Championship after successful loan spells with Birmingham City and Crystal Palace last season.

Full-back Ramage has admitted he would be happy to play in the second tier but has told Sky Sports that he still feels like he can mix it with the best in England's top flight .

"It is every footballer's dream to play at the highest level and I'm no different, so I'm open to all offers, but at the same time I want to play for a club that aims to challenge for promotion," he said.

"The Championship is one of those leagues where literally anyone can come from nowhere to finish in the top six and then anything can happen.

"I just want to play regular football and enjoy every moment of it, so as long as that happens at whichever club I'm at next season I'll be happy."

---

We're on the road to nowhere; sorry we're on the road to the Championship!!
Jo-Onenil
Neil Warnock


member is offline








Joined: Aug 2010
Posts: 722
Location: 602 miles away from the Loft

Re: Ramage hoping to find Prem Team
« Reply #1 on Jun 18, 2012, 6:31pm »

---

Good luck to him, but if he wasn't judged good enough to be a sub in a 17th-placed squad with a shaky defense, I doubt he'll find a Prem Club.

He is an average Championship Player. Maybe even a decent one, but I doubt he'll find a club in the Premier League.

---
fraserinbc
Dave Sexton


member is offline








Joined: May 2011
Gender: Male


Posts: 1,237

Re: Ramage hoping to find Prem Team
« Reply #2 on Jun 18, 2012, 8:11pm »

---

To be fair to him, the article states that he isn't looking for a Premiership club directly, but a Championship club pushing for promotion. Of course, if they make it to the PL then he would probably be dropped quicker than a hot potato.

---

Sometimes right, sometimes wrong, but always certain
Lonegunmen
Administrator


member is offline




Flynn Lives !!





Joined: Oct 2008
Gender: Male


Posts: 17,163
Location: New Zealand

Re: Ramage hoping to find Prem Team
« Reply #3 on Jun 19, 2012, 7:47am »

---

I think we should have kept him. Better than gabbiadon and a greta back-up/squad player. he'd had a chance.

---